Meaning and motivation in CSR
An individual perspective
What is so specific about motivation and meaning, when considering Business for Good? What is this meaning that CSR leaders and their followers are fueled by?
Let's try to understand how it works.

The Theory : meaning and motivation in organizations
Existing literature gives ground to illustrating what we call the superior self-sustainable loop of CSR / business ethics in the workplace.
At a very basic level, people work to earn money, and money is their motivation. It is called extrinsic motivation by researchers, because it has nothing to do with the substance of the work in itself, but by money, an exterior factor. Of course, as soon as the money stops, the work process stops as well!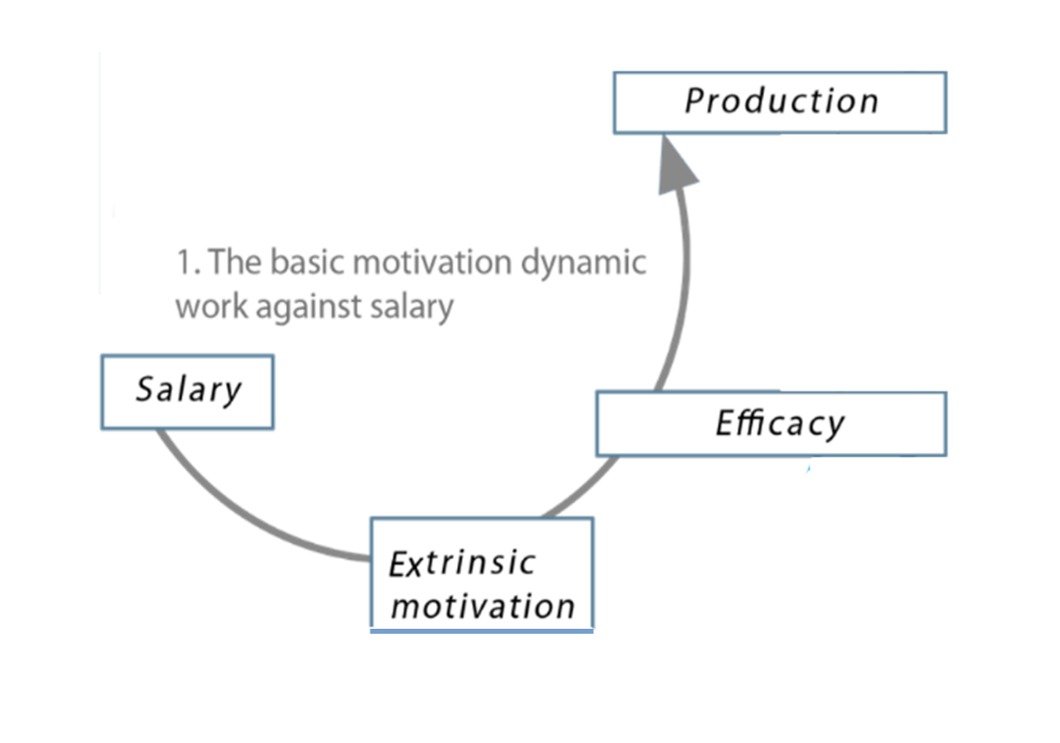 At a more meaningful level, pleasure and people at work, the working context, convey another form of motivation, called intrinsic motivation, because it is linked to the workplace. The meaning derived from pleasant working context is called hedonic meaning by researchers.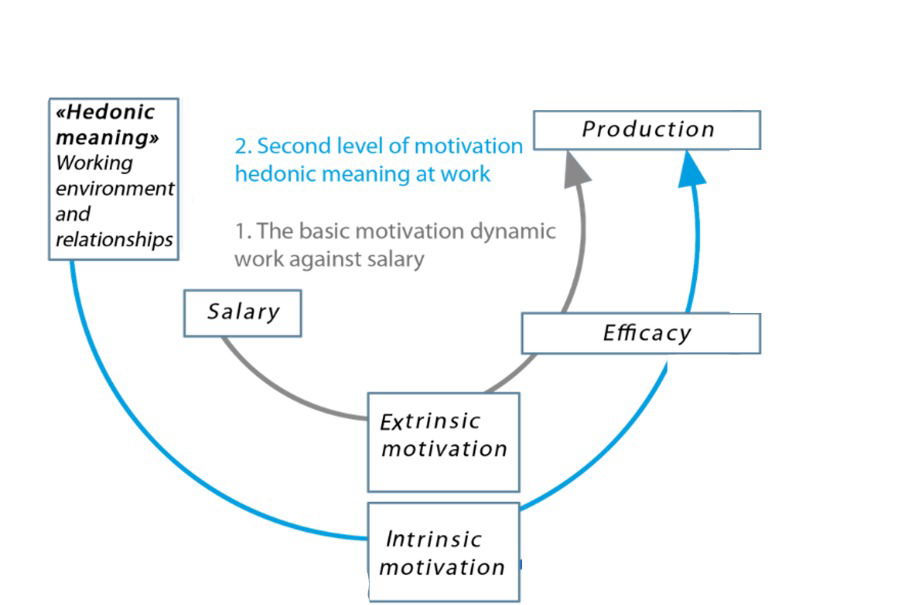 Business for Good takes motivation a step further. Steger et al. (2013) point out a higher level of meaning: the source of meaning can be people at work, or it can be about "beneficial synergies between work and the rest of life, finding work that resonates with the entirety of one's personality, values, and passions" This type of meaning is called eudemonic meaning, meaning for others.

Then , what happens is that in CSR, eudemonic meaning is not only the input creating extra intrinsic motivation, it is also the output of the CSR mission, which is to place business in a caring stance regarding people inside the organization, the larger community, society at large, and environment. This is why this level of meaning is described as self-sustained: it doesn't need to be retributed to remain strong (Osterlich & Frey, 2000).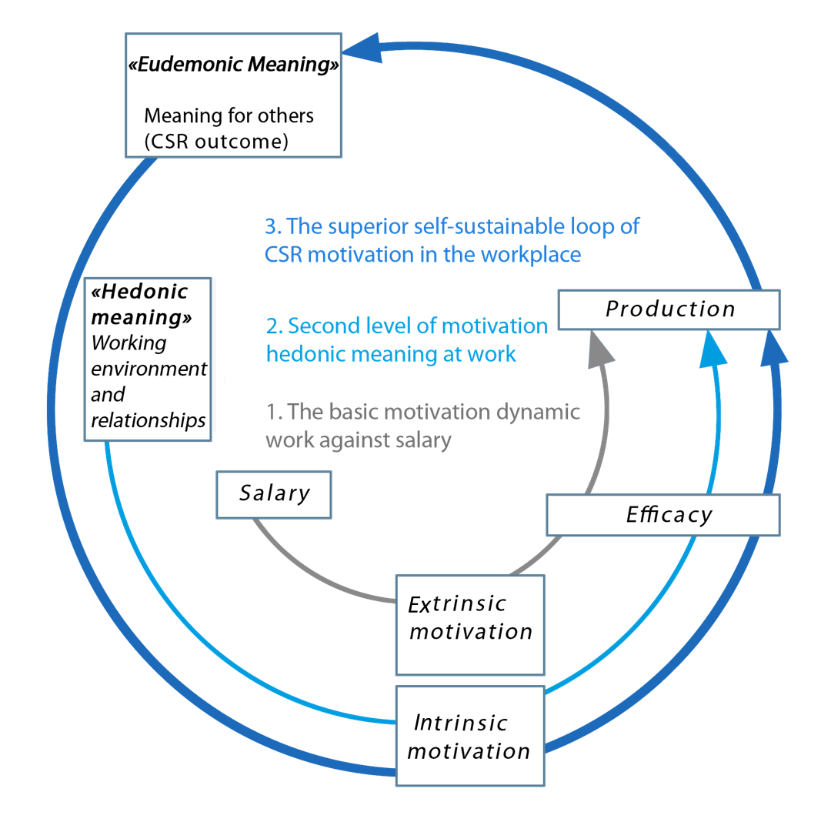 The superior self-sustainable loop of motivation
This loop makes CSR a "potential avenue for meaningfulness at work practice" (Michaelson et al 2013)

So what ?
That's how its starts. CSR is not lead by power, but by meaning and motivation. The CSR leader is the starting point. We have discovered through qualitative research how CSR leaders hold high altruistic values – salvation, wisdom, harmony, caring for others - that go beyond traditional business values oriented on achievement. These people feel they have a mission, and they are happy about it. They are fueled by the meaning they make of CSR and their inner motivation to spread the word, and offer tools and frameworks to make it happen. They are like the lighter that sets the fire. They have motivation spread because they cannot do without their network. They don't have an army of their own and they need allies.
So there may be times when it is not easy. When they may feel discouraged, or having a to big cliff to climb. As the lighter that sets the fire, they need the context, they need oxygen. Their multi task multi party context is not easy to handle. It's a bumpy path. A lot of energy and perseverance is required.
This is where we can help.
Changing for Good helps you focus your energy efficiently, to place it at the right place with the right people. We offer a space for your reflexion and introspection, for resourcing, and for helping you how to grow your motivation network more efficiently.

We can do this through individual coaching, team coaching, and consulting on stages of motivational growth.
Driving business for good faster, more efficiently, more meaningfully.

Bibliography
Bion, W. R. (1962). Learning from Experience. London: Heinemann.
French, R. and Simpson, P. (2010) The 'work group': Redressing the balance in Bion's Experiences in Groups. Human Relations, 63 (12).pp. 1859-1878. ISSN 0018-7267 Available from: http://eprints.uwe.ac.uk/12886
Joly, A. (2018). Leading Ethical / CSR change in Business: a Psychodynamic Perspective (EMCCC Master thesis INSEAD 2018). Consulté sur https://librarycatalogue.insead.edu/cgi-bin/koha/opac-detail.pl?biblionumber=86829
Laplanche, J; Pontalis, JB (1973) The language of psychoanalysis, Nicholson-SmithD, Translator. New York, NK, London / Norton and Hogarth.
Michaelson, C., Pratt, M., Grant, A., & Dunn, C. (2014). Meaningful work: Connecting business ethics and organization studies. Journal of Business Ethics, 121(1), 77-90.
Osterloh, M., & Frey, B. S. (2000). Motivation, knowledge transfer, and organizational forms. Organization Science, 11(5), 538-550.
Steger, M. F., Byrne, Z. S., Dik, B. J., & American Psychological Association. (2013). Purpose and Meaning in the Workplace (Vol. First edition). Washington, District of Columbia: American Psychological Association.