Our vision of leading CSR change
CSR human dynamics are specific, because CSR is a transformational and transversal project. The greatest challenge of CSR / sustainability / Business ethics leaders is to have their issues thrive. They need at the very start to federate people transversally in many departments of their organization, as well as externally. Consequently, the question of group dynamics is essential. CSR leaders must count with 2 types of teams:
Their own team, often restricted to very few. Even when they 'sit' close to the CEO, they do not have a big team, and often their budget relies on other functional directions in their organization: they are not in a power position. Their position is a position of influence.
Their larger network of people they "embark" in their program is made of people sitting in virtually all parts of the organization, each function having its own responsibility to integrate CSR in their part of the business. The CSR leader, by construction, needs this network. There are things he can do alone, such as gathering information, facts and data on his organization and on others, building knowledge and feedback, diagnosing and pointing out fields of progression. But to act, he needs allies in this larger network. His larger team is informal, somewhat virtual, and made of people at different hierarchical levels, including pairs, more senior people and less senior people than the CSR leader himself.
The central dynamic to building of an efficient network is motivation. To embark stakeholders (internal or external) in his CSR program, the CSR leader's role is to grow motivation, according to a mechanism that has been well described by researchers who have defined an integrative model of leadership – a meta-model of leadership theories (Eberly et. Al, 2013).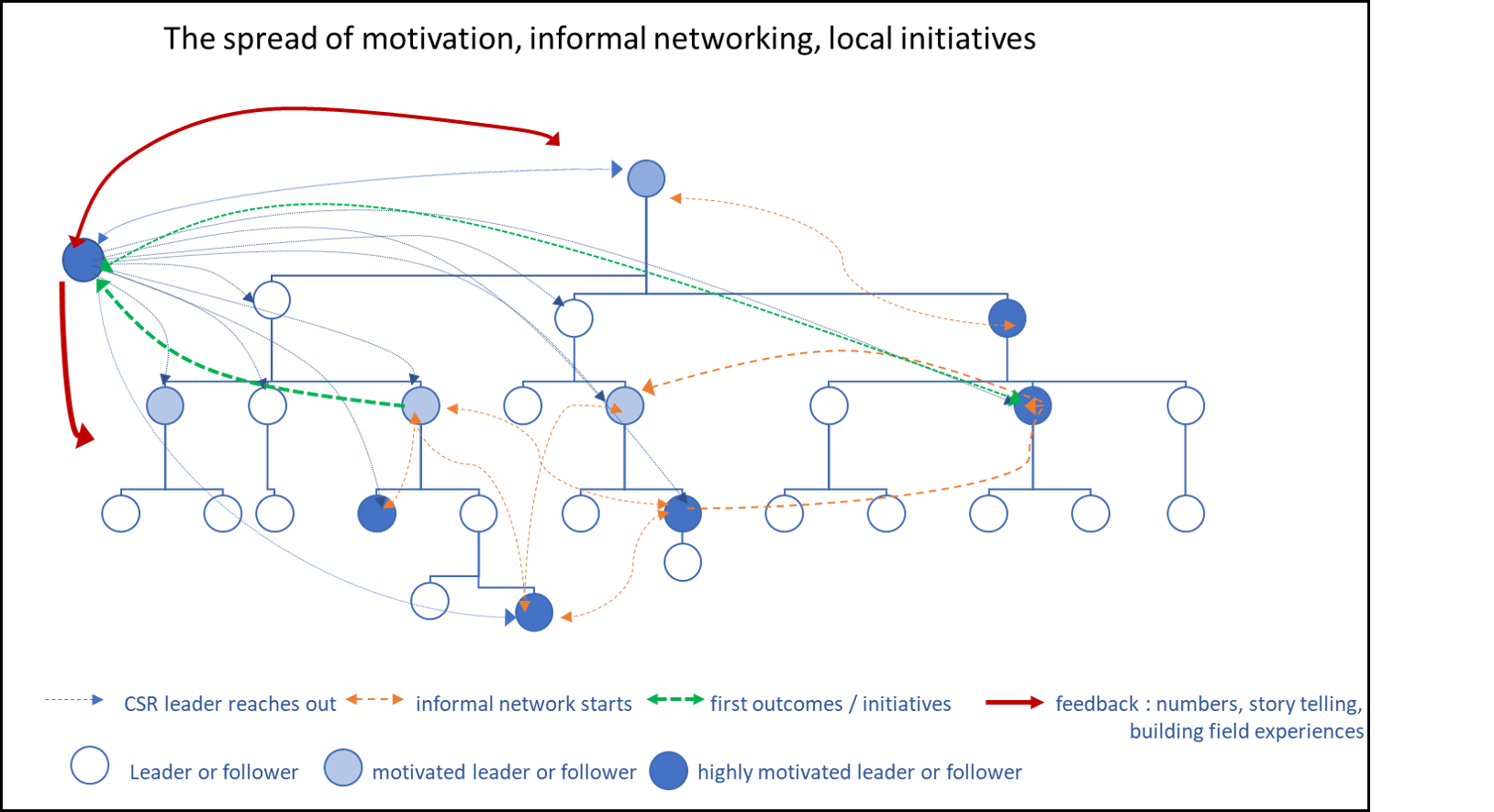 Whilst doing so, he encounters resistance from multiple places and people. When the CSR network starts working well, it "crosses" the vertical hierarchy. The vertical hierarchy asks for profit. The more transversal CSR informal hierarchy asks for benefits for society. This can create contradictions, especially as the CSR network often operates, at least in early stages, on extra energy, extra time devoted to the company with no compensation in return. These resistances take multiple forms, reveal tensions between business as usual methods and new methods driven by CSR. They reveal anxiety. Behind this anxiety lies the notion of risk.
Two types of risks appear:
1/ risks of fragilizing financial results, which is very scary and not admitted,
2/ the risk of "stepping out of the box", stepping out of the role people are assigned to.

Resistances are defense mechanisms, and part of these mechanisms are unconscious (see our article on resistances). In some cases, resistances are not only the expression of individuals, but reveal cultural gaps between "espoused values" and "values in practice" (Heifetz et al., 2009). This is when Cultural change needs to be addressed.
So, what can be done, and how can we help you?
There are several axis around which our interventions unravel, always taking in consideration your own situation, where you and your organizations stands and where you want to go :
Personal alignment in terms of motivation, energy and stances: we offer coaching approaches for those who lead CSR
CSR leadership involves the introspection capacity of the CSR leader himself, dealing with a role that implies a huge diversity of tasks and competencies to find the right balance between not losing the passion, and still finding the distance to tame emotions, learning not to be discouraged when facing resistance and to recognize the different forms at stake, reviewing their framing, and triggering motivation.
CSR leaders need space and time to reflect, share, and be cared for, on their continuous path of progression.
Networking based on motivation : we offer both collective coaching approaches and consulting approaches.
Team coaching to boost collective intelligence and motivation, and consulting to help you organize the processes.

Cultural resistances : we offer cultural assessment frameworks, that start by the question "What do we need to change in our culture and in our set of values to make the Business for good change we need happen?" in order to reveal the hidden underlying assumptions that lead to those painful contradictions that build resistances. We then offer built-in frameworks to address them. (See our article on cultural resistances)